Commissions
I accept copmmissions, large or small. Illustrated below is my biggest, in a Leicestershire garden, carved from two 350kg Portland limestone blocks sourced direct from the quarry. I also sourced a granite base and a specially-blown cobalt glass sphere. I can handle smaller commssions in my workshop but larger ones need to be done on site.
A village memorial
The village where we used to live wanted a monument in its old chapel yard, as a place of reflection and commemoration for villagers whose family members are buried far away. The design rationale is to reflect adjacent graves and to hint at a Celtic cross, but without being either; to reference the gothic architecture of the nearby church; and to call to mind two human figures.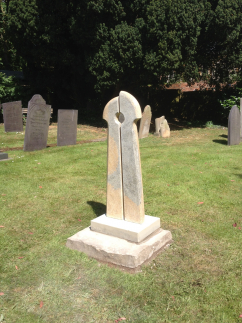 Smaller Commissions
Here is a selction of smaller completed commissions, including a sculpture for the stillbirth charity SANDS in their garden at the National Memorial Arboretum.